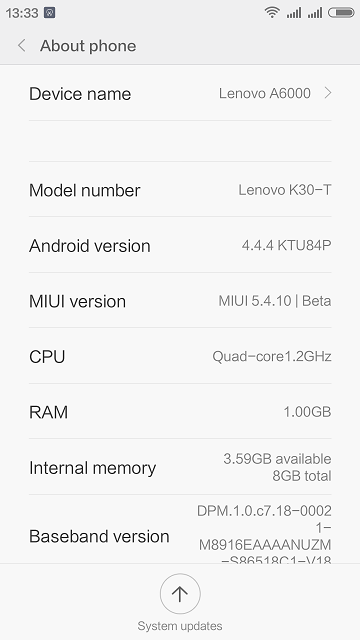 Mohon ijin share custom rom MIUI 6 beta versi 5.4.10
Bahan :
1. custom rom MIUI 6 versi 5.4.10
Link : http://techolaty.net/download-custom…vo-a6000-miui/
credit to : techolaty
2. google installer
Link : http://en.miui.com/thread-3998-1-1.html
credit to : MIUI forum
ane lebih pilih google installer buat install playstore, google map, google framework dkk
inget pilih yang perlu aja karena bikin berat. install dulu aja PS nanti akan diminta yang wajib diinstal.
gmail, google+, dkk kalo ga perlu ga usa diinstal ga papa.
daripada nanti pilih gapps dan ga cocok ( uda sempet nyobain ada yang ga cocok gaaps nya soalnya )
Persiapan :
1. Pastikan HH anda uda diroot dan terpasang CWM.
2. Back up aplikasi pake Titanium Backup kalo males install ulang aplikasi yang uda bejibun.
3. Install file custom rom dan taruh di luar folder di external memory ( sd card )
4. Install file google installer dan taro di sd card juga
Tutorial :
1. Matiin HH dan idupkan untuk masuk ke CWM ( tekan tombol volume+, – dan power bersamaan sampe keluar tulisan lenovo baru lepas )
2. Back up dulu via CWM di sdcard1 ( external sd ) buat jaga2 kalo ada apa2 bisa dibalikin lewat CWM.
3. Wipe data/factory reset
4. Wipe cache partition
5. Masuk advance wipe dalvik cache
6. Install zip pilih file cusrom tadi di storage sdcard1
7. Tunggu sampe semua complete trus reboot. pilih yes – fix root
8. Lenovo A6000 anda sudah berganti rom MIUI 6 beta 5.4.10 based China rom. Jadi jangan kaget kalau ga ada PS dan Google aplication lainnya dan jangan salah pilih bahasa english kecuali bisa berbahasa mandarin
9. Kalau mau pake cusrom nya apa adanya bisa aja. Tinggal install Titanium Backup trus restore backup tadi.
10. Kalau pengen ada google aplikasi kayak PS dkk install apk google installer yang tadi didonlot.
Bug :
Sampe saat ini belum nemuin. Nanti diupdate kalo uda nemu.
Tapi kalo beda ma Vibe UI sih ga bisa install di memory external ( MIUI rom ). Lagi nyari xposed yang cocok.
Catatan :
Kalau mengalami agak ngelag setelah install google aplication dkk itu normal. ibaratnya jalan 2 framework. MIUI dan google. Rajin2 bersihin ram dan lock aplikasi yang ga mau dikill. Sisa ram setelah flash di 350Mb dan sisa internal 3.5gigaan.
Bagusnya masih ada pilihan prefer LTE, prefer 3G dan 2G only. Tapi belom test soalnya jaringan XL jogja masih 900 dan HH nya frek 1800.
Antutu score di 19rban dari 20rban di Vibe UI.
Kamera lebih colorful khas MIUI dan kamera depannya lebih bening ketimbang stok rom IMHO ( cocok buat yang demen selfie )
Inget semua yang sebelumnya ga bisa kayak OTG dan compass tetep ga jalan ya di MIUI ini walopun rom aslinya support.
Selamat mencoba dan DWYOR
Please

if you like

Sekedar barbuk